Cancer Research Training and Education Coordination
Investigator Career Development Intro Basic Content
Penn State Cancer Institute plays a vital role in training and educating the next generation of cancer research investigators, and in preparing trainees for sustaining careers in cancer research.
This includes all types of research from basic science research that provides enhanced understanding of the mechanisms of cancer in the body, to population science research that identifies cancer health disparities, to advances in clinical care for those diagnosed with cancer.
The Cancer Institute pipeline programs provide transdisciplinary cancer research training across all career levels, from pre-college through faculty.
Explore some of these developmental programs below.
Research Investigator Development Photo 1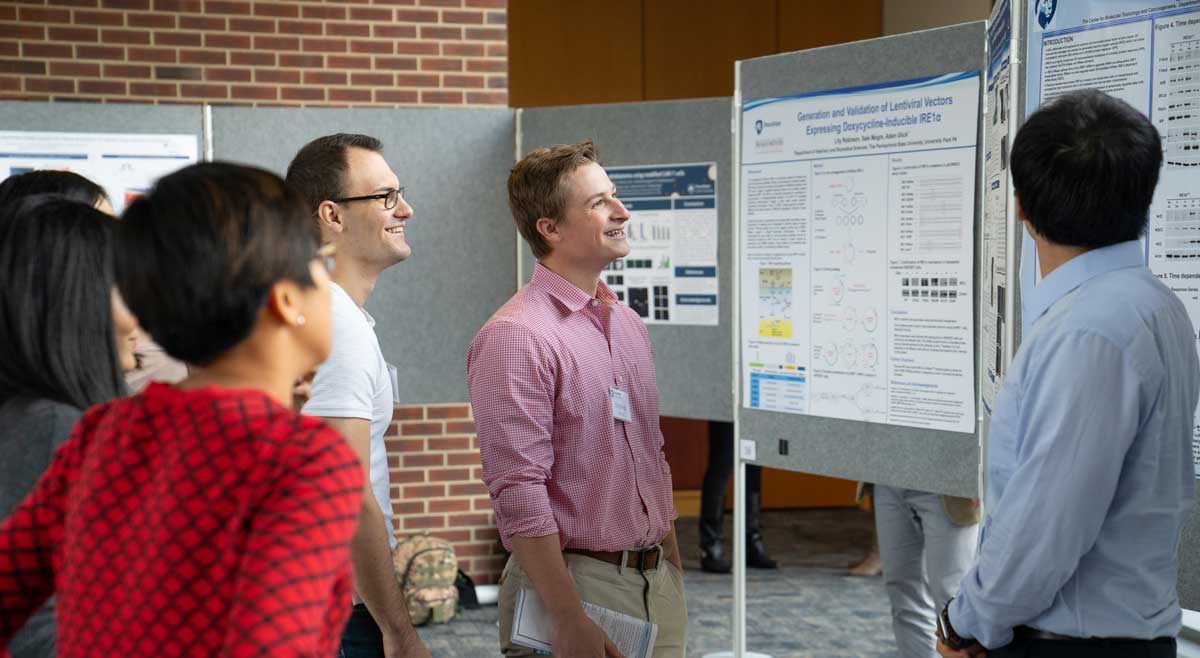 Investigator Career Development Pre-College Feature Boxes
For Pre-College Educators
In partnership with Penn State Center for Science and Schools, the Cancer Institute offers a seven-week summer Research Experience for STEM Teachers from secondary schools within the Cancer Institute Catchment area. This program features authentic research with a Cancer Institute member (located in either the Hershey or University Park campus of Penn State University) combined with teacher professional development activities to translate research experiences into innovative classroom projects.
The goal of the program is to make cancer research approachable for all STEM teachers, including biology, physics, chemistry, math, computer science, and illustrate the transdisciplinary nature of modern day cancer research.
Researcher Development Graduate Students Feature Boxes
For Medical Students
All Penn State medical (MD program) students are required to perform a Medical Student Research Project. Many Cancer Institute faculty serve as mentors, and the Hill Family scholarship supports summer research of medical students performing cancer research.
Medical students also have a number of opportunities to explore careers in cancer research. For example, the Hematology/Oncology medical student interest group offers "Pioneer Lunches" with a chance to network with researchers as well as outside speakers to inspire students to pursue cancer research careers.
Researcher Development Residents and Fellows Feature Boxes
For Faculty
The Cancer Institute directly supports junior faculty development through the American Cancer Society Institutional Research Grant. These funds are intended to provide seed money to new investigators to help them with starting their research programs and to obtain preliminary data in support of more extensive research application which must have a clear and strong cancer focus. Applications must have a clear and strong cancer focus.
Additional faculty development opportunities are available across various career stages. The four-week K Grant Workshop for early career investigators is offered each spring and provides participants the tools needed to craft a competitive mentored career development proposal. The Junior Faculty Development Program combines a comprehensive curriculum of weekly lessons with an individual project completed under the guidance of a senior faculty mentor. The Grants Academy is a structured workshop to assist participants with preparation and submission of an independent investigator-initiated grant application.
Researcher Development Clinician and Community Outreach