Outreach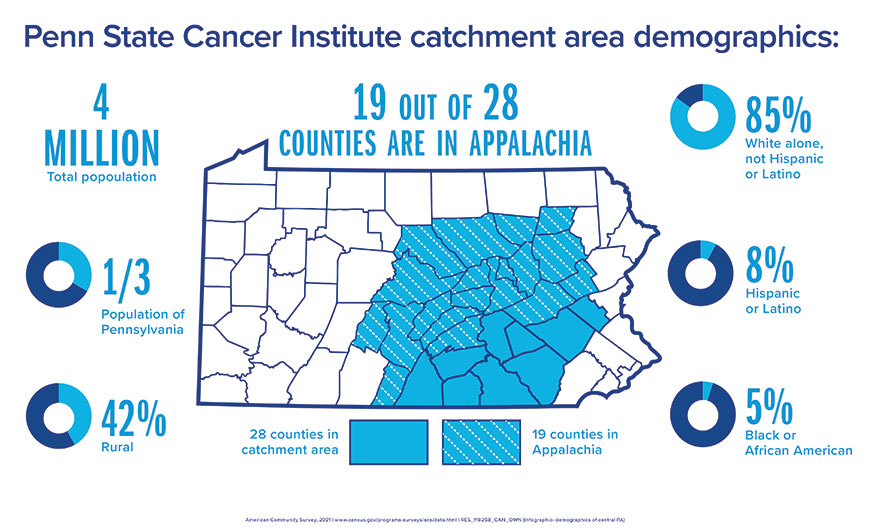 ​​​​​​​
Reducing the Burden of Cancer in Central Pennsylvania
The Penn State Cancer Institute serves central Pennsylvania, our 28-county catchment area, with world-class care, research, training and outreach. Our healthcare providers, researchers, staff and students want to help you and your loved ones lead healthier lives! Together, we can make a difference in central Pennsylvania.
Central Pennsylvania is a unique and exciting place. The region is a thriving mix of rural communities, friendly boroughs, historic towns, and bustling cities. The population is racially and ethnically diverse.
Being a part of Pennsylvania State University, we bring a wealth of cutting-edge research and resources to residents throughout Pennsylvania. Our collective mission is to reduce the burden of cancer through services that 'make a difference', especially for those who are at highest risk of cancer's devastating impact. We are as equally as focused upon preventing cancer from occurring, finding cancer early, treating cancer with the latest therapies, and helping cancer survivors enjoy life to its fullest. We are actively engaged with patient navigators, community health workers and promotoras because they serve a critical role in cancer outreach, research and care.
We don't do this alone. We recognize that residents, community-based organizations, and policy-makers have a vital role in achieving the vision that no one will die from cancer in central Pennsylvania. Indeed, everyone has a unique and essential part to play. This is an ambitious vision, but together we can achieve it.
For more information, including receiving a list of manuscripts and reports on cancer and cancer control in central Pennsylvania, contact OCHE@psu.edu.
Cancer Institute Catchment Area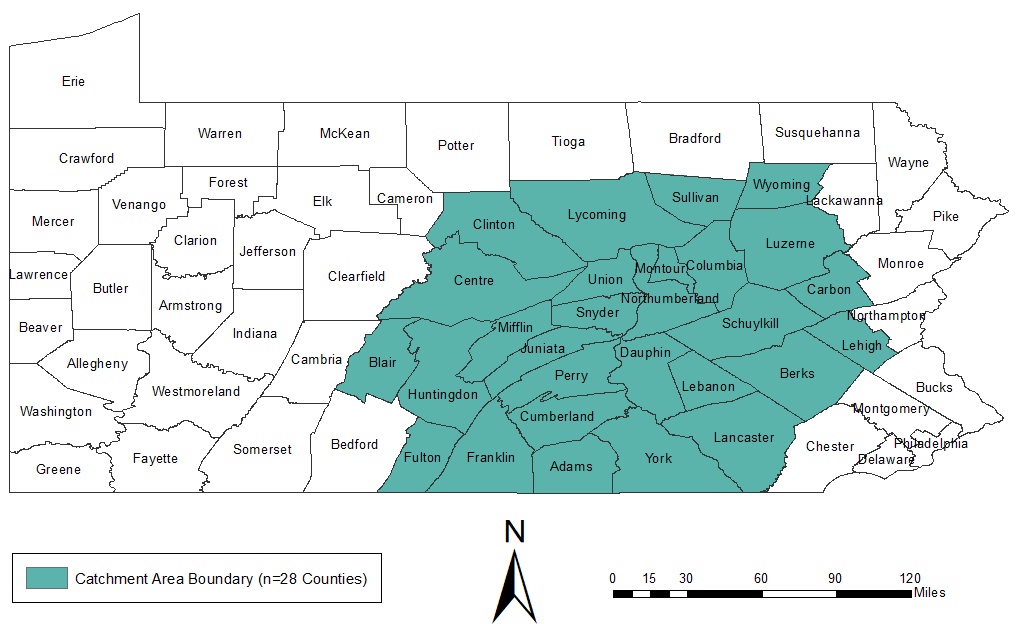 About Our Catchment Area Basic Content
Overview
The mission of OCHE is to foster bilateral engagement between communities and partners in central Pennsylvania and Penn State that advances cancer health equity and reduces cancer burden for all. This engagement provides a foundation for world-class cancer research, care, outreach, education and policy development.
The vision of OCHE is to make certain no one in central Pennsylvania develops a preventable cancer or dies prematurely from cancer.
OCHE Focus
OCHE work is composed of:
Mapping and disseminating data on cancer and its determinants in central Pennsylvania and beyond. To see more data on cancer visit LionVu.
Promoting patient navigation to reduce the burden of cancer
Advising the Penn State Cancer Institute on culturally appropriate clinical care
Helping to assure that minority and underserved populations have access to cancer education and research.
OCHE Central Pennsylvania Focus Area:
The Penn State Cancer Institute's 28-county area comprises 4 million people.
OCHE is dedicated to relieving cancer burden for all populations, especially those in racial and ethnic minorities and rural populations.