Awards and Accreditation
Awards and Accreditations
Quality Cancer Care Focused on You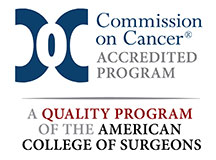 Upon recently completing its Commission on Cancer (CoC) survey and accreditation site visit, Penn State Cancer Institute achieved full accreditation with gold level commendation status for three years from the American College of Surgeons. This recognition highlights the Cancer Institute's membership in an elite group of cancer programs committed to providing high-quality cancer care to patients in central Pennsylvania and beyond. It underscores the team's commitment to excellence and plays an important role in advancing its mission to improve lives.
You are Receiving Care from a CoC-accredited Program
The CoC recognizes Penn State's CoC-accredited cancer program for its voluntary commitment to providing high-quality, patient-centered care. As a CoC-accredited cancer program, the Cancer Institute demonstrates an important commitment to providing all patients with access to services they need from diagnoses through treatment, rehabilitation, and survivorship care.
The American College of Surgeons Commission on Cancer (CoC) represents the leaders in cancer care and partners with more than 50 organizations, including the American Cancer Society and LIVESTRONG, on patient-centered initiatives. It is dedicated to improving survival and quality of life for cancer patients through standard-setting, prevention, research, education, and the monitoring of comprehensive quality care.
Interested in Learning More?
More than 70 percent of patients with cancer in the U.S. receive patient-centered care from CoC - accredited cancer programs. For more information about the CoC, visit www.facs.org/cancer.
We have also earned accreditations from the following organizations: