Help us find a cure
Our Mission
Penn State Cancer Institute seeks to discover, develop and disseminate scientific knowledge from basic, clinical and population-based investigations.
This is done in order to influence and enhance groundbreaking, compassionate cancer care, education, innovation and integrated collaborative research for the shared purpose of decreasing the impact of cancer in central Pennsylvania and beyond.
We have a particular focus on improving access to screenings, preventative measures and care among underserved rural Appalachian residents.
About the Big 10 Cancer Research Consortium
The Big Ten Cancer Research Consortium creates a unique team-research culture to drive science rapidly from ideas to treatment-changing paradigms. Within this innovative environment, research leaders from Penn State Cancer Institute and other Big Ten universities collaborate with and mentor the research leaders of tomorrow with the unified goal of improving the lives of all patients with cancer. Watch a video here.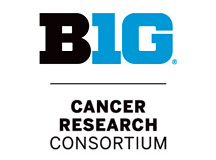 Affiliate Membership - Feature Box
Affiliate Membership
Current Penn State students and trainees who are performing cancer research at Penn State Cancer Institute will be given affiliate membership status. Applicants can choose to be aligned with scientific programs and disease teams.
Membership
The strength of a matrix cancer center is directly linked to bringing talented investigators from across the University. We encourage investigators interested in cancer research collaborations to apply for Cancer Institute membership.
Find a Researcher
Penn State Cancer Institute investigators conduct basic science, translational and clinical research to help advance the fight against cancer. Search for Cancer Institute members and affiliates by name or research interest.
Clinical Trials Feature Boxes
Clinical Trials
Penn State Cancer Institute offers a number of clinical trials targeting different types of cancer and provides support to clinical investigators in a variety of ways.
Core Shared Resources
Penn State Cancer Institute has a variety of state-of-the-art core facilities and shared resources available for use by investigators.
Funding Opportunities
Penn State Cancer Institute offers or collaborates to offer a number of funding opportunities for investigators.
Research Programs Feature Boxes
Research Programs
Penn State Cancer Institute members conduct research in the areas of Next-Generation Therapies, Mechanisms of Carcinogenesis, and Cancer Control.
Cancer Research Training Opportunities
Penn State Cancer Institute plays a vital role in training and educating the next generation of cancer research investigators, and in preparing trainees for sustaining careers in cancer research.
TCORS and Immunotherapy Feature Boxes
Center for Research on Tobacco and Health
The overall goal of the Center for Research on Tobacco and Health is to develop a leading state-of-the-art research and training infrastructure that will inform policy on the regulation of tobacco products.
Immunotherapy
The immunotherapy program at Penn State Cancer Institute helps to increase the number of patients who are definitively cured by immunotherapy. In addition, the program works to expand the pool of different tumors susceptible to this form of therapy.
Research The ONE and Melanoma Feature Boxes
Melanoma and Skin Cancer Center
The Melanoma and Skin Cancer Center provides cutting-edge research, early detection and state-of-the-art clinical care for skin cancer patients.
The ONE Group (Oncology - Nutrition - Exercise)
The Oncology, Nutrition and Exercise (ONE) Group at Penn State College of Medicine/Penn State Cancer Institute is leading a transformation in cancer care by establishing evidence-based physical activity and nutrition interventions as the standard of care from the point of diagnosis forward, including active treatment, rehabilitation and for the balance of life.