Researcher Profile
Portals Internet Researcher Display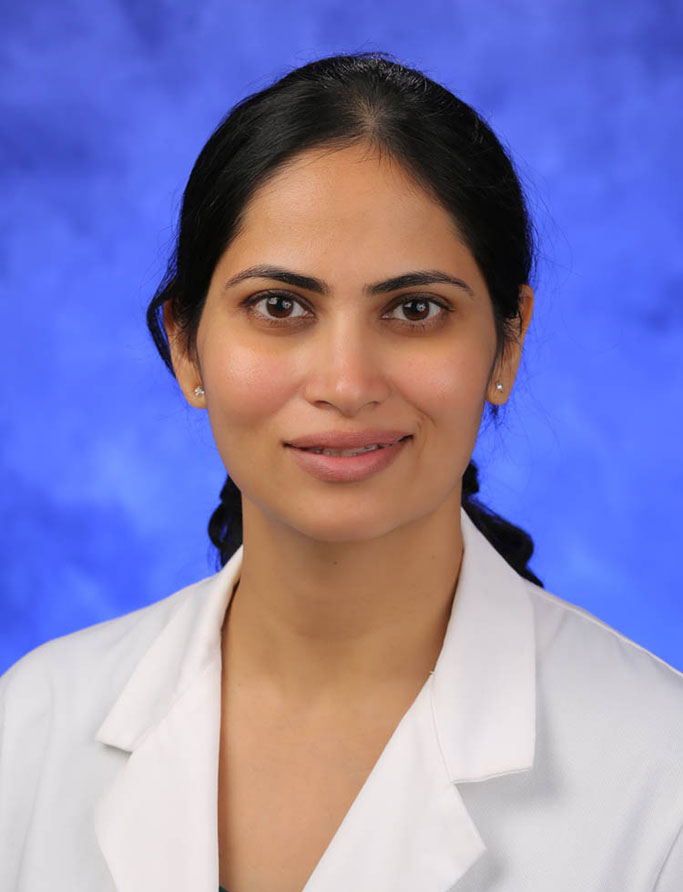 Monali Vasekar, MD
Assistant Professor, Department of Medicine
Division of Hematology and Oncology
Scientific Program:
Next-Generation Therapies
Urinary Bladder Neoplasms
CCTG MA.39:Tailor RT: A Randomized Trial of Regional Radiotherapy in Biomarker Low Risk Node Positive and T3N0 Breast Cancer
EA1181 (CompassHER2-pCR): Preoperative THP and postoperative HP in patients who achieve a pathologic complete response Part 1 Component of:The CompassHER2 Trials (COMprehensive use of Pathologic response Assessment to optimize therapy in HER2-positive breast cancer).
STAMP: Surgically Treated Adjuvant Merkel cell carcinoma with Pembrolizumab, a Phase III Trial
A Randomized, Placebo-Controlled, Double-Blind Study of Adjuvant Cemiplimab versus Placebo after Surgery and Radiation Therapy in Patients with High Risk Cutaneous Squamous Cell Carcinoma (CSCC)
A Phase III, Randomized, Open-label, Multicenter Study Evaluating the Efficacy and Safety of Adjuvant Giredestrant Compared with Physician's Choice of Adjuvant Endocrine Monotherapy in Patients with Estrogen Receptor-Positive, Her2-negative Early Breast Cancer (B-61) Lidera
NRG-BR007: A Phase III Clinical Trial Evaluating Deescalation of Breast Radiation for Conservative Treatment of Stage I, Hormone sensitive, HER2- Negative Oncotype recurrence Score ≤ 18 Breast Cancer
Phase 2 Study of Bladder-SparIng ChemoradiatioN with CIPosItive bladdeR cancEr (INSPIRE)EA8185
APG-115 - A Phase Ib/II Study of APG-115 in Combination with Pembrolizumab in Patients with Unresectable or Metastatic Melanomas or Advanced Solid Tumors
A Phase II, Single Arm, Non-randomized Study of Alpelisib (BYL719) in Combination with Continued Endocrine Therapy Following Progression on Endocrine Therapy in Hormone Receptor Positive, HER2 Negative, PIK3CA Mutant Metastatic Breast Cancer Big Ten Cancer Research Consortium BTCRC-BRE19-409
Prospective Evaluation of Carvedilol in Prevention of Cardiac Toxicity in Patients with Metastatic HER-2+ Breast Cancer, Phase III
Phase 1/2 Multicenter Study of the Safety, Pharmacokinetics, and Preliminary Efficacy of APL-101 in Subjects with Non-Small Cell Lung Cancer with c-Met EXON 14 Skip Mutations and c-Met Dysregulation Advanced Solid Tumors
A Phase Ib/11 Study of Propranolol with fixed-dose Pembrolizumab in Patients with Unresectable Stage III and Stage IV Melanoma
2023
Gordon, BR, Qiu, L
, Doerksen, SE
, Kanski, B, Lorenzo, A
, Truica, CI
, Vasekar, M
, Wang, M
, Winkels, RM
, Abdullah, S
& Schmitz, KH
2023, '
Addressing metastatic individuals everyday: Rationale and design of the nurse AMIE for Amazon Echo Show trial among metastatic breast cancer patients
',
Contemporary Clinical Trials Communications
, vol. 32, 101058.
https://doi.org/10.1016/j.conctc.2023.101058
2022
Weng, X
, Shen, C
, Vasekar, M
, Boltz, M
, Joshi, M
, Van Scoy, LJ
& Wang, L
2022, '
Alzheimer's disease and related dementias is a risk factor for lower utilization of breast cancer screening and unstaged cancer diagnosis: Observational study from SEER-Medicare 2004–2016 data
',
Journal of Geriatric Oncology
.
https://doi.org/10.1016/j.jgo.2022.11.006
2021
Nesterova, D
, Zhu, J
, Kramer, C
, Vasekar, M
, Truica, C
, Joshi, A
, Hayes, M
, Kessler, J
, Saunders, EFH
, Drabick, JJ
& Joshi, M
2022, '
Group-led creative writing and behavioural health in cancer: A randomised clinical trial
',
BMJ Supportive and Palliative Care
, vol. 12, no. 1, pp. 91-98.
https://doi.org/10.1136/bmjspcare-2020-002463
2020
Stahl, K, Wong, W
, Dodge, D
, Brooks, A, McLaughlin, C, Olecki, E, Lewcun, J
, Newport, K
, Vasekar, M
& Shen, C
2021, '
Benefits of Surgical Treatment of Stage IV Breast Cancer for Patients With Known Hormone Receptor and HER2 Status
',
Annals of Surgical Oncology
, vol. 28, no. 5, pp. 2646-2658.
https://doi.org/10.1245/s10434-020-09244-5
Hendriksen, BS, Stahl, KA
, Hollenbeak, CS
, Taylor, MD
, Vasekar, MK
, Drabick, JJ
, Conte, JV
, Soleimani, B
& Reed, MF
2021, '
Postoperative chemotherapy and radiation improve survival following cardiac sarcoma resection
',
Journal of Thoracic and Cardiovascular Surgery
, vol. 161, no. 1, pp. 110-119.e4.
https://doi.org/10.1016/j.jtcvs.2019.10.016
Yin, M, Grivas, P, Wang, QE, Mortazavi, A, Emamekhoo, H
, Holder, SL
, Drabick, JJ
, Woo, MSA, Pal, S
, Vasekar, M
, Folefac, E, Clinton, SK, Monk, P
& Joshi, M
2020, '
Prognostic Value of DNA Damage Response Genomic Alterations in Relapsed/Advanced Urothelial Cancer
',
Oncologist
, vol. 25, no. 8, pp. 680-688.
https://doi.org/10.1634/theoncologist.2019-0851