Researcher Profile
Portals Internet Researcher Display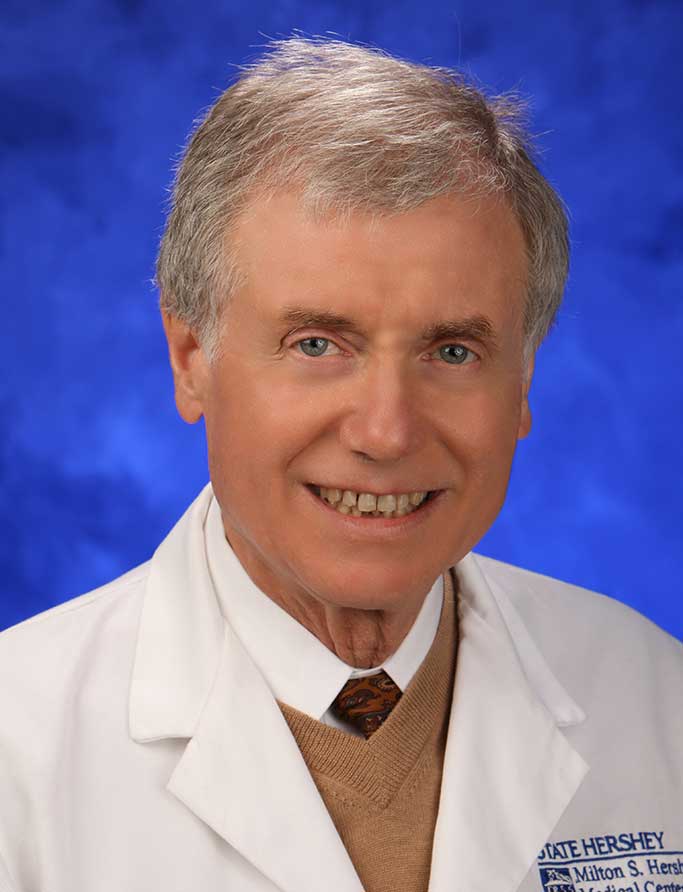 Andrea Manni, MD
Professor, Department of Medicine
Chief, Division of Endocrinology and Diabetes
Scientific Program:
Cancer Control
Dr. Andrea Manni joined the faculty of Penn State College of Medicine in 1982 and has more than 200 scholarly publications. His primary research interest has been breast cancer with a focus on endocrine determinants of tumor biology, autocrine/paracrine factors mediating hormonal effects and interactions between hormones and polyamines in tumor control.
Dr. Manni's research teams were among the first to demonstrate the potent antitumor activity of the antiestrogen Tamoxifen in women with hormone-responsive breast cancer. Recently, he has focused on breast cancer prevention through dietary manipulations with omega-3 fatty acids (n-3FA) in conjunction with antiestrogens. His most recent work has indicated that among n-3FA, docosahexaenoic acid (DHA) may be the most potent in selectively reducing breast cancer risk in obese postmenopausal women. He has lectured extensively on this topic nationally and internationally.
Throughout his career, Dr. Manni has served on research grant review committees such as NIH and Department of Defense study sections. He has been an editor of the Journal of Clinical Endocrinology and Metabolism, the premiere clinical journal of the Endocrine Society. He has also been on the editorial boards of several journals with a focus on endocrine oncology.
Estrogen Receptor Modulators
2023
2022
Lorenz, FJ, Beauchamp-Perez, F
, Manni, A
, Chung, T
, Goldenberg, D
& Goyal, N
2022, '
Analysis of Time to Diagnosis and Outcomes among Adults with Primary Hyperparathyroidism
',
JAMA network open
, vol. 5, no. 12, pp. E2248332.
https://doi.org/10.1001/jamanetworkopen.2022.48332
Thompson, HJ, Neil, ES, McGinley, JN, Fitzgerald, VK
, El Bayoumy, K
& Manni, A
2022, '
Building a foundation for precision onco-nutrition: Docosahexaenoic acid and breast cancer
',
Cancers
, vol. 14, no. 1, 157.
https://doi.org/10.3390/cancers14010157
2021
Chen, KM
, Thompson, H
, Vanden-Heuvel, JP
, Sun, YW
, Trushin, N
, Aliaga, C
, Gowda, K
, Amin, S
, Stanley, B
, Manni, A
& El-Bayoumy, K
2021, '
Lipoxygenase catalyzed metabolites derived from docosahexaenoic acid are promising antitumor agents against breast cancer
',
Scientific reports
, vol. 11, no. 1, 410.
https://doi.org/10.1038/s41598-020-79716-x
2020
Li, Y
, Fan, CY
, Manni, A
& Simonds, WF 2020, '
Pitfalls of using denosumab preoperatively to treat refractory severe hypercalcaemia
',
BMJ case reports
, vol. 13, no. 4, 233665.
https://doi.org/10.1136/bcr-2019-233665
2019
El-Bayoumy, K
& Manni, A
2020, '
Customized Prevention Trials Could Resolve the Controversy of the Effects of Omega-3 Fatty Acids on Cancer
',
Nutrition and cancer
, vol. 72, no. 2, pp. 183-186.
https://doi.org/10.1080/01635581.2019.1651348
Sun, YW
, Xu, H, Benitez, G
, Chen, KM
, Stanley, A
, Stanley, B
, Zhu, J
, Thompson, H
, Manni, A
& El-Bayoumy, K
2019, '
Omega-3 Fatty Acids Responsive Proteins and Reduction in Breast Density in Obese Postmenopausal Women
',
Journal of Proteome Research
, vol. 18, no. 9, pp. 3461-3469.
https://doi.org/10.1021/acs.jproteome.9b00356