Researcher Profile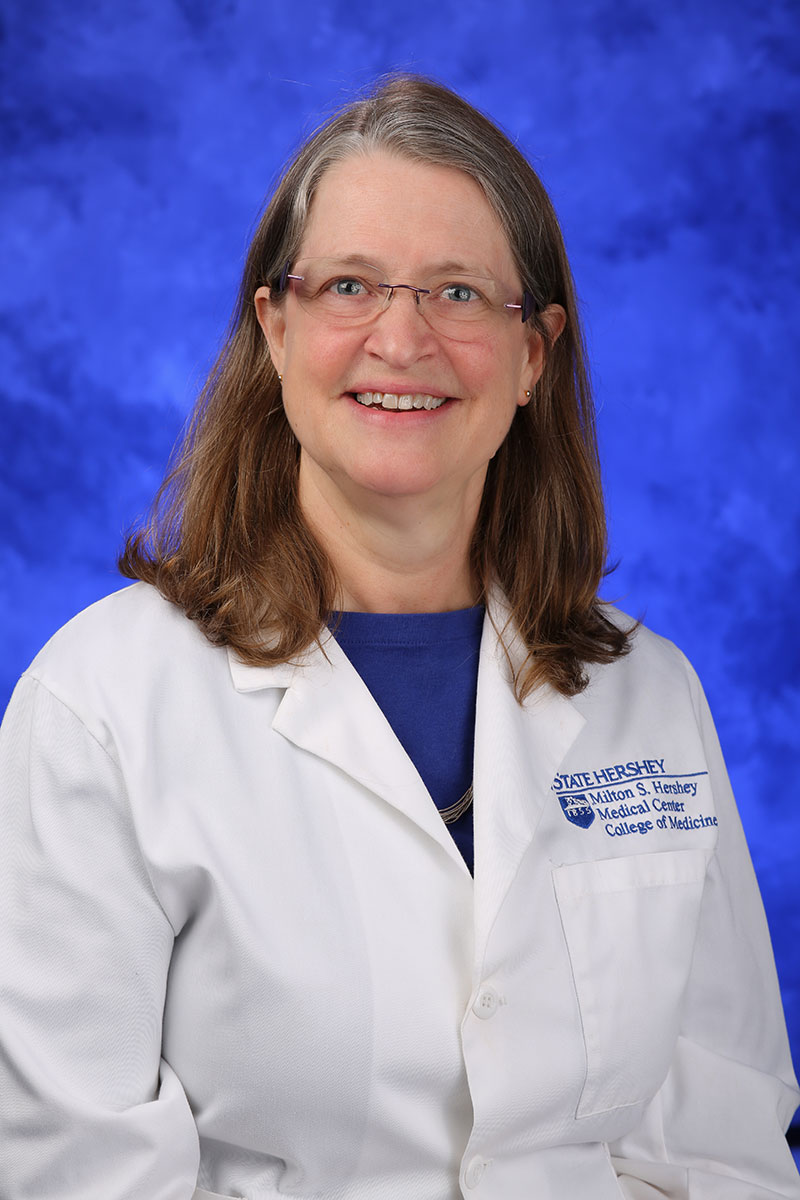 Rebecca Bascom, MD, MPH
Professor, Department of Medicine
Division of Pulmonary, Allergy and Critical Care Medicine
Professor, Department of Public Health Sciences
Dr. Rebecca Bascom has been part of the faculty at Penn State College of Medicine since 1997. Her patient-centered clinical research includes:
Ehlers-Danlos syndromes (EDS): Dr. Bascom is coinvestigator on "Educating Primary Care Doctors to Help Patients with Rare Diseases" and serves as part of the monthly EDS STRETCH project clinician research series through Penn State Project ECHO.
Interstitial lung disease (ILD): Dr. Bascom is director of Penn State Health Milton S. Hershey Medical Center's Pulmonary Fibrosis Foundation Care Center, anchoring central Pennsylvania ILD care and research. 
Her electronic health record-related research includes:
Pulmonary disease: Dr. Bascom is co-principal investigator of the Patient-Centered Outcomes Research Institute (PCORI)-funded Pulmonary CRG, associated with the COPD Foundation Patient-Powered Research Network. This group helps to incubate junior faculty projects in bronchiectasis, sarcoidosis, sickle cell disease, sleep apnea and the use of natural language processing to classify smoking status. 
PaTH Network: Dr. Bascom is coinvestigator on "A PaTH Towards a Learning Health System in the Mid-Atlantic Region – Health System Leaders Demonstration Project." She is also the clinical lead for the PaTH Network's idiopathic pulmonary fibrosis cohort study.
Dr. Bascom's occupational and environmental health clinical research includes work on the interaction between allergic and non-allergic respiratory disease as well as epidemiologic studies of inhaled toxicants.
She participates or has participated in many clinical trials, including the National Institutes of Health's Pulmonary Trials Cooperative; Network Management Core (NEMO); INSIGHT (COPD); and CLEANup IPF. She has also done pharmaceutical work with Boehringer Ingelheim, MediciNova, MedImmune, InterMune, Genentech, Nitto-Denko and Galapagos.
Dr. Bascom also enjoys collaboration with basic science investigators on topics such as inhalation toxicology, toxicant dosimetry, markers and mechanisms of inhaled toxicant susceptibility, modified-risk tobacco broducts and bronchoscopy multimodality image guidance technology.
Funding for her work has come from NIH, PCORI, Pulmonary Fibrosis Foundation, COPD Foundation, Penn State Clinical and Translational Science Institute, Penn State College of Medicine's Grace Woodward Grant, University of Michigan, Pennsylvania Department of Health and pharmaceutical companies. 
Dr. Bascom presents at regional health systems, national and international conferences. She is also a frequent speaker for departmental and divisional Grand Rounds at the College of Medicine and serves on the internal review committee and internal advisory board for Penn State Institute for Personalized Medicine.
Piloting a Virtual Navigation (VN) System for Bronchoscopic Tissue Sampling
Repository of Lung Cancer Diagnostic Procedure Images
2023
2022
2021
2020
2019