Researcher Profile
Portals Internet Researcher Display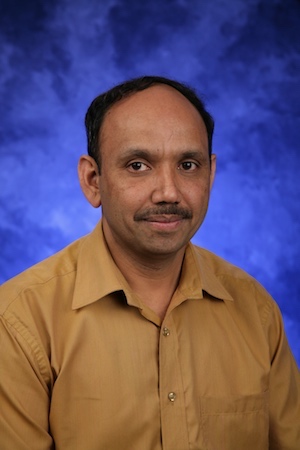 Krishne Gowda, PhD
Associate Professor, Department of Pharmacology
Assistant Professor, Department of Pharmacology
Scientific Program:
Mechanisms of Carcinogenesis
Dr. Krishne Gowda's research efforts combine synthetic organic chemistry, biochemical and molecular biological tools in an interdisciplinary approach to designing and synthesis of small molecules that specifically target diseased cells or infectious agents.
The long-term goal of the research is the development of selective strategies for the treatment of cancer and infectious diseases. Topics of current interest include:
Development of selective modulators of Aryl hydrocarbon receptor (SAhRM) activity. Recently, the lab developed a molecule SGA360 and analogs as selective modulators of aryl hydrocarbon receptor, which was shown to inhibit a set of inflammatory cytokines. Future studies are needed to test whether SGA360 and analogs would be useful in treating chronic inflammatory diseases.
Development of novel therapeutic agents for cancer. Currently, the lab has developed novel isatin derivatives that were demonstrated as aldehyde dehydrogenase (ALDH) inhibitors and suitable candidates for further study for the anticancer activity. The lab developed maritoclax and pyoluteorin derivatives as Mcl-1 inhibitors and is also involved in the synthesis of various carcinogens like polycyclic aromatic hydrocarbons and their metabolites like diols and diol epoxides and tobacco-specific N-nitrosamines, wherein they prepare specific carcinogens and their metabolites for bioassays and the exploration of DNA adducts formation. The lab uses mechanisms of chemical carcinogenesis as a tool for developing chemopreventive strategies to reduce the morbidity and mortality from cancer.
Aryl Hydrocarbon Receptors
Glycosylphosphatidylinositols
2023
2022
2021
2020
2019