Researcher Profile
Portals Internet Researcher Display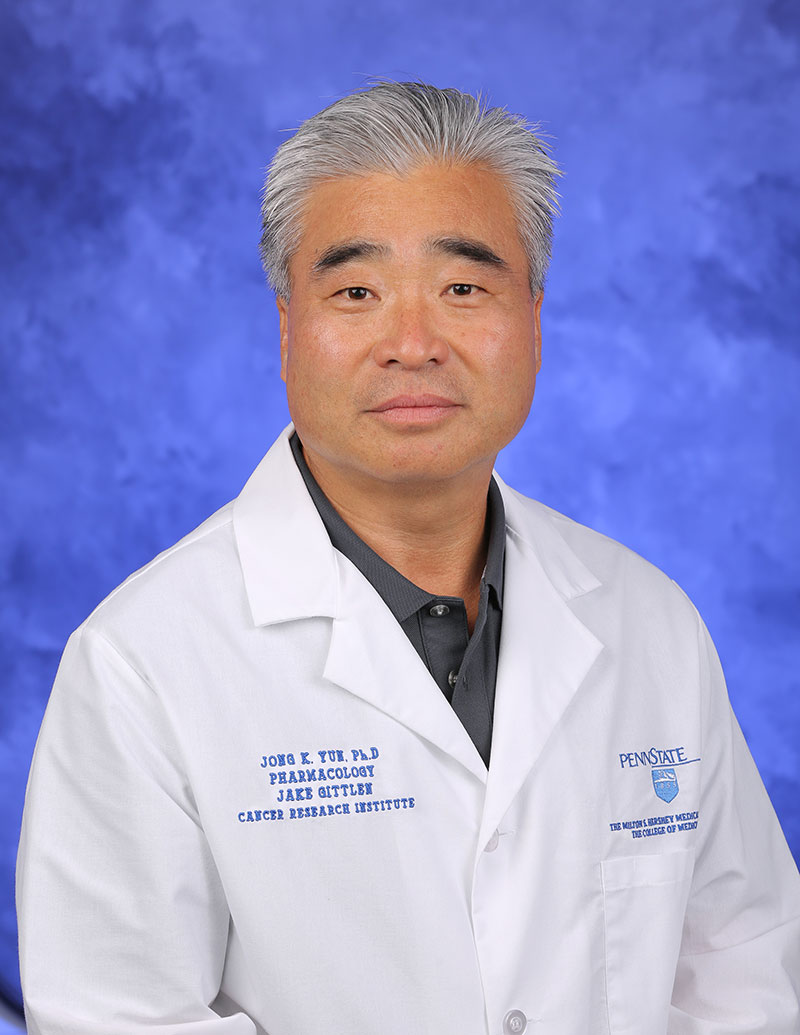 Jong Yun, PhD
Associate Professor, Department of Pharmacology
Scientific Program:
Next-Generation Therapies
Dr. Jong Yun's work focuses on the development of sphingosine kinase (SphK) inhibitors as anti-cancer therapeutic agents.
The Yun research group is currently pursuing three separate projects that are centered around the development of therapeutic agents that specifically target SphK.
The first project, target identification, combines biochemistry and cell and molecular biology techniques to determine the signaling mechanisms associated with the functional role of SphK in normal and cancerous cells.
The second project, target validation, is closely associated with the physiological and/or pathological functions of SphK. To validate SphK as a therapeutic target, the lab currently has ongoing studies in collaboration with other investigators including clinicians such as oncologists and pathologists.
The third project, proof-of-concept studies, centers around the development of novel disease-specific and effective therapeutic approaches by targeting SphK. In this regard, Dr. Yun's work has already identified and refined novel SphK inhibitors (SKIs) by screening libraries of synthetic compounds. Currently, the lab has several ongoing proof-of-concept studies in collaboration with other investigators who have expertise medicinal chemistry, computational chemistry and in vivo mouse model systems.
Tumor Necrosis Factor-alpha
2022
Hengst, JA
, Nduwumwami, AJ
, Raup-Konsavage, WM
, Vrana, KE
& Yun, J
2022, '
Inhibition of Sphingosine Kinase Activity Enhances Immunogenic Cell Surface Exposure of Calreticulin Induced by the Synthetic Cannabinoid 5-epi-CP-55,940
',
Cannabis and Cannabinoid Research
, vol. 7, no. 5, pp. 637-647.
https://doi.org/10.1089/can.2021.0100
Hengst, JA
, Nduwumwami, AJ
& Yun, JK
2022, '
Regulatory Role of Sphingosine-1-Phosphate and C16:0 Ceramide, in Immunogenic Cell Death of Colon Cancer Cells Induced by Bak/Bax-Activation
',
Cancers
, vol. 14, no. 21, 5182.
https://doi.org/10.3390/cancers14215182
2021
Nduwumwami, AJ
, Hengst, JA
& Yun, JK
2021, '
Sphingosine kinase inhibition enhances dimerization of calreticulin at the cell surface in mitoxantrone-induced immunogenic cell death
',
Journal of Pharmacology and Experimental Therapeutics
, vol. 378, no. 3, pp. 300-310.
https://doi.org/10.1124/jpet.121.000629
2020
Hengst, JA
, Dick, TE
, Smith, CD
& Yun, JK
2020, '
Analysis of selective target engagement by small-molecule sphingosine kinase inhibitors using the Cellular Thermal Shift Assay (CETSA)
',
Cancer Biology and Therapy
, vol. 21, no. 9, pp. 841-852.
https://doi.org/10.1080/15384047.2020.1798696
Hengst, JA
, Hegde, S
, Paulson, RF
& Yun, JK
2020, '
Development of SKI-349, a dual-targeted inhibitor of sphingosine kinase and microtubule polymerization
',
Bioorganic and Medicinal Chemistry Letters
, vol. 30, no. 20, 127453.
https://doi.org/10.1016/j.bmcl.2020.127453