Researcher Profile
Portals Internet Researcher Display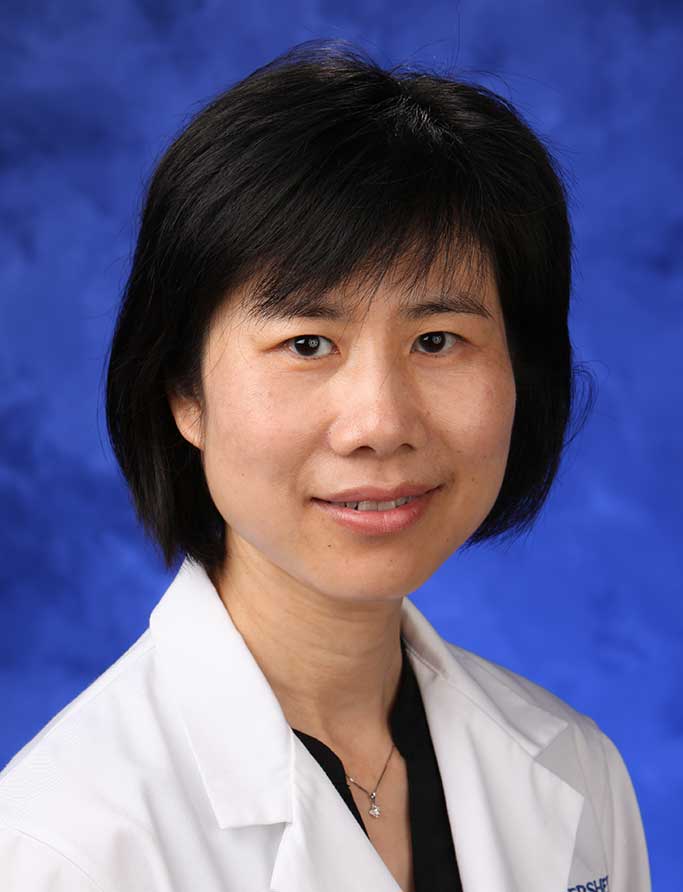 Hong Zheng, MD, PhD
Associate Professor, Department of Medicine
Division of Hematology and Oncology
Associate Professor, Department of Microbiology and Immunology
Scientific Program:
Mechanisms of Carcinogenesis
Disease Teams:
Cancer Institute, Bone Marrow Transplantation Team
Cancer Institute, Immunotherapy Team
Cancer Institute, Leukemia and Lymphoma Team
Dr. Hong Zheng's research focus is transplant immunology and developmental therapeutics for leukemia. Her study is dedicated to improve the understanding of the complex immune response involved in leukemia pathogenesis and allogeneic hematopoietic stem cell transplantation, and subsequently develop effective leukemia therapeutics.
Currently, she is involved in developing early-phase clinical studies testing the safety and efficacy of immunotherapy for leukemia. Her laboratory studies involve targeting T-cell inhibitory mechanisms as a strategy to improve anti-leukemia immunity.
Difference in care and trends in outcomes of adolescent and young adult AML patients treated in pediatric and adult centers
A Randomized, Open Label Phase 3 Study Evaluating Safety and Efficacy of Venetoclax in combination with Azacitidine after allogeneic Stem Cell Transplantation in Subjects with Acute Myeloid Leukemia (AML)(M19-063)
A Phase 2, Open-Label Trial to Evaluate Safety of Epcoritamab Monotherapy in Subjects with Relapsed or Refractory Diffuse Large B-Cell Lymphoma and Follicular Lymphoma Grade 1-3a when Administered in the Outpatient Setting
A Phase Ib/II Study of Venetoclax (ABT-199) in Combination with Liposomal Vincristine in Patients with Relapsed or Refractory T-cell or B-cell Acute Lymphoblastic Leukemia
Blood and Bone Marrow Collection from Patients with Hematological Malignancies for Study of Anti-Tumor Immunity
Protocol for a Research Sample Repository for Allogeneic Hematopoietic Stem Cell Transplantation
bcr-abl PCR response to Tyrosine Kinase Inhibitors in Chronic Myeloid Leukemia in Stable Chronic Phase.
T-Cell Exhaustion in Allogeneic Hematopoietic Stem Cell Transplantation for Acute Myelogenous Leukemia
An Open-Label, Randomized, Multicenter, Phase Ib/II Trial Evaluating the Safety, Tolerability, Pharmacokinetics, and Efficacy of Mosunetuzumab (BTCT4465A) In Combination with Polatuzumab Vedotin in Patients with B-Cell Non-Hodgkin Lymphoma
A Multicenter Access and Distribution Protocol for Unlicensed Cryopreserved Cord Blood Units (CBUs) for Transplantation in Pediatric and Adult Patients with Hematologic Malignancies and Other Indications
Assessment of Allogeneic Hematopoietic Cell Transplantation in Medicare Beneficiaries with Multiple Myeloma: A Study to Develop Evidence of Effectiveness for the Centers for Medicare and Medicaid Services (CMS)
2023
2022
2021
2020
2019