Researcher Profile
Portals Internet Researcher Display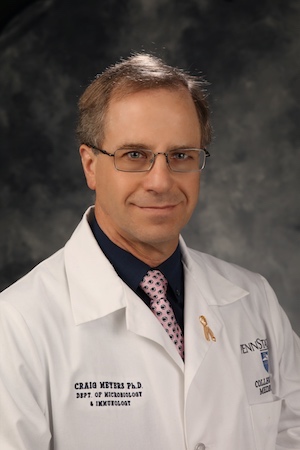 Craig Meyers, MS, PhD
Distinguished Professor, Department of Microbiology and Immunology
Distinguished Professor, Department of Obstetrics and Gynecology
Scientific Program:
Mechanisms of Carcinogenesis
Presently, the central research goals of Dr. Craig Meyers' laboratory are to study the differentiation-dependent life cycle of human papillomavirus (HPV) and HPV-associated oncogenesis. Studies in the Meyers lab follow five general research themes:


Investigation of the molecular biology and genetics of HPV morphogenesis and structure in native virus replicated under natural physiological differentiation conditions of the host tissue. The majority of the laboratories studying HPV morphogenesis and structure utilize synthetic particles such as virus-like particles (VLPs) or pseudoviral particles (PsV). The Meyers lab's studies have shown that the morphogenesis, maturation, and structure of native HPV differs in many significant characteristic from VLPs or PsV particles. 
Developing an understanding of ethnic differences in HPV types and variants using a whole-genome analysis, including infection prevalence and carcinogenicity. 
Investigating the epigenetic mechanisms of HPV-associated oral disease. This will be done by measuring genome-wide epigenetic changes occurring at different stages of the HPV16 life cycle, carcinogenic progression, and in response to ART treatment. Determining the interaction of highly active anti-retroviral drugs on oral tissues, HPV and HPV's infection of oral tissue. 
Comparative analysis of HPV infection, life cycle and oncogenesis at different anatomical sites, including the cervix, foreskin, tonsil and anal canal. 
In addition to HPV, Dr. Meyers is also interested in studying the life cycle of other epitheliotropic infectious agents, such as the Herpes virus family, in three-dimensional human epithelial tissue.
Uterine Cervical Neoplasms
2023
2022
2021
2020
2019