Moving Through Cancer with CARE
The experience of cancer diagnosis and treatment can, quite literally, turn life upside down. Those impacted by cancer often describe feeling as if the carpet has been pulled out from underneath them, losing their footing and sense of control. Moving Through Cancer with CARE offers support to regain greater balance and steadiness with the support of a trained exercise oncology professional.
Moving Through Cancer with CARE begins right where you are in terms of balance, strength, and physical conditioning. Any barriers to physical activity are addressed, creating a realistic plan to begin and maintain physical activity. In the face of cancer-related uncertainty, exercise may afford a number of evidence-based benefits related to fatigue, physical function, anxiety, depression, lymphedema, bone health, and sleep, as well as improve overall quality of life.
What to Expect
Moving Through Cancer with CARE is personalized, tailored to you and to your specific needs. Individuals meet in-person with an exercise oncology professional for an initial evaluation. Depending on the cancer care treatment plan, health status, and goals, you will engage in exercise sessions either at the Penn State Cancer Institute Exercise Medicine Unit (EMU) or virtually through telehealth sessions for at-home programs. The EMU is a small gym located in the infusion suite on the 2nd floor of the Cancer Institute. The exercise oncology professional closely monitors progress, barriers, needs, and goals. While all individuals with cancer are encouraged to avoid inactivity, exercise becomes medicine through specific modifications for current capabilities and needs. You can expect specific guidance on balance, strength training, and aerobic exercise, like walking. Moving Through Cancer with CARE assists you and your oncology care team, helping you to achieve what matters most for your overall health and wellness.
Exercise Oncology Professional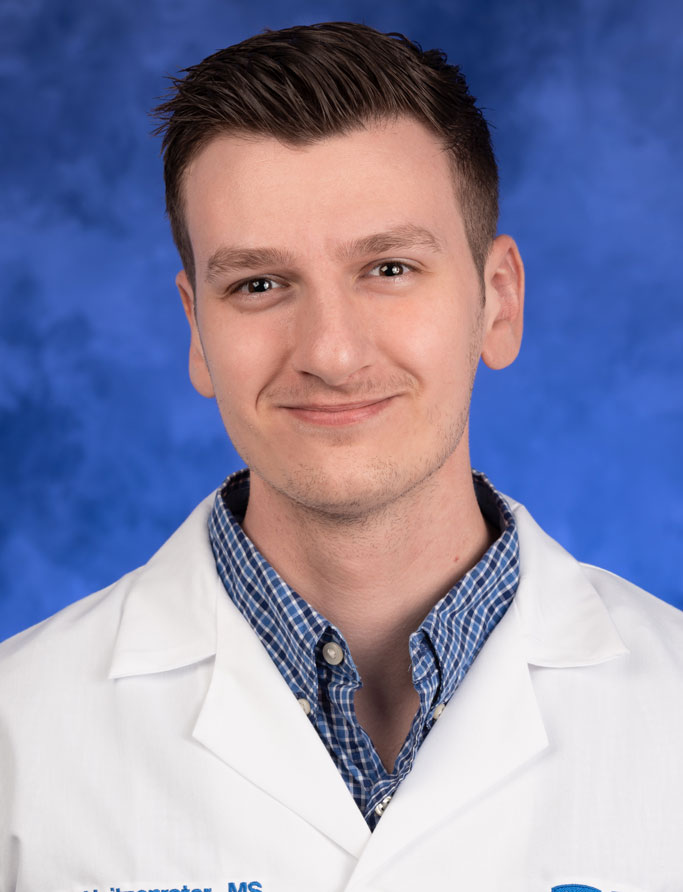 ​​​​​​​Jared Heitzenrater, MS, EP-C, CET – Mr. Heitzenrater earned a master of science degree in cancer care, specializing in exercise physiology, through Saint Francis University. Heitzenrater's practice in the CARE Center focuses on using exercise as medicine. His goal is to help individuals with a history of cancer to reduce treatment related side-effects and improve their physical function, as well as their overall quality of life. Jared is an American College of Sports Medicine certified exercise physiologist (EP-C) and cancer exercise trainer (CET). He specializes in the use of balance, aerobic, strength, and flexibility exercise designed to meet the unique needs of each individual.

Jared is passionate about helping individuals overcome barriers to physical activity and providing the tools necessary to make exercise safe, fun, and effective.
Hear from those who are Moving Through Cancer with CARE
"Thank you, thank you Hershey Medical Center and the CARE Center for offering the exercise program to help me begin the steps to a healthier lifestyle. Jared, with his wise guidance and never-ending support have been a blessing in my life on my journey toward improved self-care." – Jeannie
"As a prostate cancer patient since 2016 I've had lots of ups and downs. Strength and cardio training with the CARE Center exercise physiologist has been an enormous help to me, physically, mentally and emotionally. I've especially appreciated the care with which workouts are tailored specifically to my needs and abilities. No cookie-cutter plans, just personalized care!" – Richard
"When I was diagnosed with cancer, I was so afraid that all of the work I'd done over the years to stay physically strong, would be wiped out. Fortunately, I found Jared and the exercise program for patients with cancer, and I feel as strong as ever!" – Connie
"I have really benefited from the workout time spent with Jared and the exercise program we have developed for me. I am doing well with getting stronger all the time, more important, I believe it is truly helping with my fight against cancer, I'm grateful for him and the CARE Center." – Alden