Epidemiologic Assessments
Epidemiologic Assessments
As one of its services, the Community Outreach and Engagement shared resource conducts epidemiologic assessments of the geographic origin, mix and patient characteristics of oncology cases.
How it Works
For these assessments, we analyze cancer incidence data collected by the Pennsylvania Cancer Registry for the Pennsylvania Department of Health. As a reportable disease, all cases of cancer must be reported to Pennsylvania Department of Health; reporting is a regular function of hospitals and their tumor registries, laboratories and physicians.
In Pennsylvania, approximately 72,000 cases of cancer are diagnosed each year. The PCR is where information on all cases of cancer diagnosed or treated in Pennsylvania is collected. It has had statewide data collection since 1985. And to assure that it has a record of all cases among Pennsylvania residents who may have an out-of-state address, the PCR exchanges oncology data with tumor registries in other states.
PCR ensures that reliable and valid data are available to answers questions, reduce the burden of cancer, and improve the lives of cancer survivors and their families.
Data Analysis Opportunities
Currently, COE has access to data on Pennsylvania cancer cases diagnosed from 2010 through 2015. We periodically receive new or updated data sets to incorporate into our data repository. For these epidemiological analyses, we work with the investigator to define cancer type, stage, grade, histology and related tumor characteristics.
Other variables of interest may include age, race, ethnicity, health insurance or patient gender.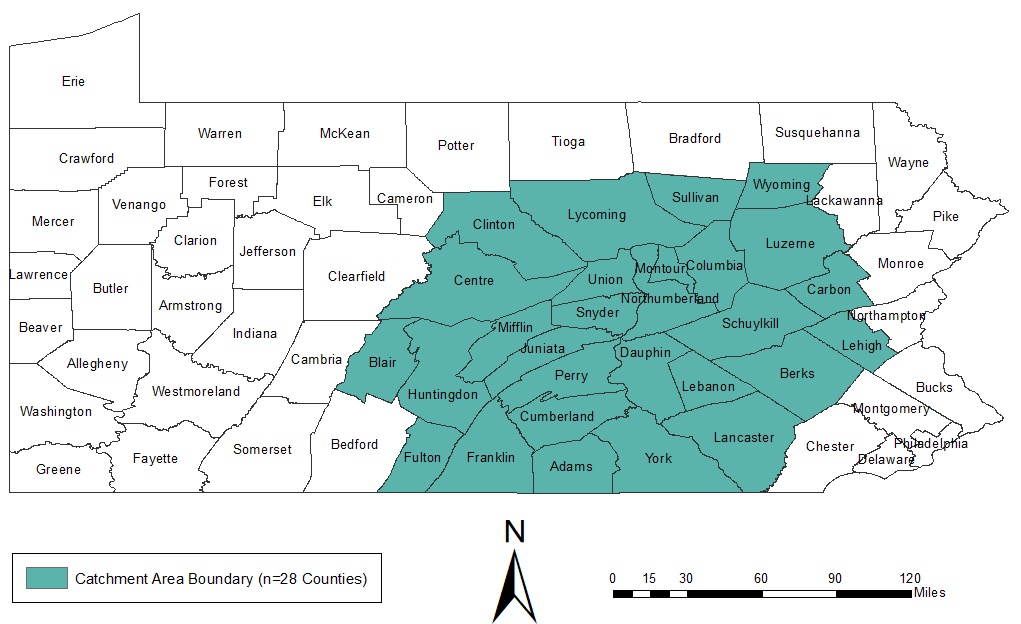 We primarily conduct analyses of "analytic" cases, which are those cases for which the hospital has the primary responsibility to manage the cancer (e.g., definitive diagnosis and first course of treatment) and the hospital registry has the primary responsibility for recording data, including annual follow-up.
Our analyses and reports can address case mix and epidemiologic questions such as:
How many cancer cases from specific geographic areas are patients at Penn State Health Milton S. Hershey Medical Center?
What percentage of cancer cases from specific geographic areas are seen at Hershey Medical Center?
How many and what percentage of cancer patients who reside in specific geographic areas are treated at competitor hospitals?
Are the geographic patterns of the cancer case mix at Hershey Medical Center changing over time?
We primarily group data into five different geographic areas:
Individual counties
Penn State Cancer Institute core clinical area (Dauphin, Lebanon, Berks, Lancaster and Cumberland counties)
Penn State Cancer Institute 15-county referral area (core clinical area as well as Centre, Mifflin, Juniata, Huntingdon, Perry, Fulton, Franklin, Adams, York and Schuylkill counties)
Penn State Cancer Institute 28-county catchment area (referral area as well as Blair, Clinton, Lycoming, Sullivan, Wyoming, Union, Snyder, Montour, Northumberland, Columbia, Luzerne, Carbon and Lehigh counties)
Pennsylvania (all 67 counties)
We conduct three primary types of population-based, epidemiological assessments, including geographic and temporal analysis:
Analytic cases at Penn State Health Milton S. Hershey Medical Center
Analytic cases at either Hershey Medical Center or at its major competitors
Cases seen at multiple hospitals
Contact Us
For details on epidemiologic assessments, contact: